Delivering with humor, David preps audiences so they're wanting to take that 'next step'.

#MindShare101
Videos that -
inspire, poke & provoke
David Greenspan, an expert in 'WOW' Factor Keep-in-Touch Marketing, leads audiences in an energetic and down-to-earth way, on how to use the Science behind Marketing to effectively break through the noise.
Working with Realtor, Mortgage Broker and Career Sales Force audiences across Canada for nearly a decade, David introduces the value of building, having and owning MindShare. And he shares real-world tools and approaches that support ongoing success.
Audience Quotes -
"He connects, calls it like it is, and with a smile, he makes it fun."
"David? Yes, he re-framed what I knew, but had forgotten."
"It's like a common sense recharge ...of course I'd like him back."
"Got 5 great takeaways – 3 that I'll start today."
To deliver the "ah-ha" moment at your next Sales Rally....
Contact:  David  david@kitspak.com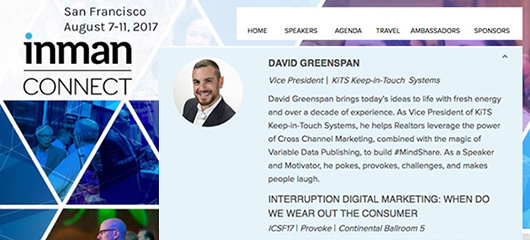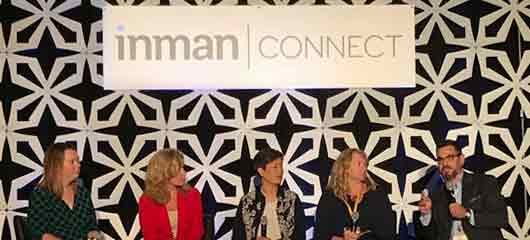 Upcoming Speaking Event –
Century 21 National Convention 2017
Presenter –
Inman Connect - San Francisco, Aug 2017
Presenter –
Century 21 Bootcamp(s) National Awards, National 2017
Presenter –
Royal LePage Awards Gala(s), National 2017
Presenter –
Royal LePage National Conference, Las Vegas 2016
Presenter –
Calgary Real Estate Board Conference 2015 Building Your Future
Presenter –
Mortgage Alliance of Canada, Toronto Sales Rally 2015
Presenter –
Royal LePage National Conference 2014
Presenter –
Sutton Group Toronto Sales Rally
Broker/Manager/Conference Organizer Feedback:
Hi David
Thank You for your tremendous support and guidance for the second time. ...KiTS is second to none and has been confirmed by many of our 550 agents after your presentation. As more of our salespeople embrace the program, I am sure we will see outstanding results and a dramatic increase in their incomes.
All the Best!
RE/MAX Broker Vancouver B.C.
Good morning David
Our thanks for your presentation yesterday!
Received great feedback from our Realtors and I thought overall the workshop was excellent ...the room had energy!
Thanks,
Royal LePage Brokerage GM, Vancouver B.C.
RE: 2015 CREB Conference
At CREB ...we heard nothing but great things.
And I heard you really opened the eyes of our
REALTORS ....  
Thanks.
Events Supervisor, CREB
David
I just wanted to tell you that I have had some great feedback from two super-performers in our office, who following the presentation - engaged your ideas, and... have been especially thrilled that the program is reaching older clients in their database that they were not keeping up with – they  reconnected, and they will most definitely be getting business from them this year.
It works! Thanks so much!
Royal LePage, Broker, North GTA, Ontario